When it comes to climate change and reducing our environmental impact, we often look towards factories putting out high carbon emissions and big corporations using plastic food and material packaging. As more information becomes available, many of us are trying to reduce our own environmental footprint. We are choosing to do things like using glass containers and reusable water bottles, or maybe frequenting that restaurant with locally-sourced food and compostable take-out containers rather than another trip to P.F. Changs. We may sign petitions asking for more regulations on pollution in our air, or new packaging that will save the sea turtles. But one area's environmental impact remains largely out of public view—and that's the medical industry. Because the biggest priority in healthcare is helping the patient in the most immediate way possible, larger downstream impacts are often put by the wayside. There is no doubt the healthcare industry plays a vital role in the health of our populations, but it is also important for us to look unbiasedly at the ways we ourselves can advocate for small (or large) changes in our communities to help our planet and the world population as a whole.
The Medical Industry Impact on Air
It is a little known fact that the U.S. Healthcare Industry is responsible for 10% of all the carbon emissions in the nation and 9% of all harmful non-greenhouse gas emissions. In fact, the healthcare industries in the US, Canada, Australia, and England combined release around 748 million metric tons of greenhouse gas each year. This number is more than the rest of the world's releases combined. And while this may seem big now, the emissions are currently rising by 30% each year. When looking at medical care and the environment, many people feel that the care of the patients and saving lives is worth the environmental damage. However, saving lives and environmental pollution do not go hand in hand. Air pollution is actually estimated to be the cause for 16% of all deaths worldwide. Advocating for sustainable healthcare industry infrastructure would not only allow doctors to continue saving emergent patient lives, it would save thousands of additional lives outside of the hospital each year. Improving air quality worldwide would also lower the rates of disease associated with inhaling harmful pollutants, such as chronic obstructive pulmonary disease (COPD), lung cancer, acute lower respiratory infections, stroke, and ischemic heart disease. Public health and patient health are heavily linked to one another, and we in the medical industry must advocate for the continual change and growth of environmental awareness and sustainability within our profession.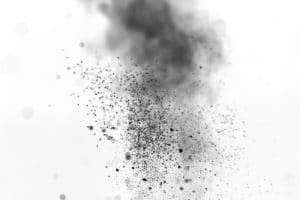 The Medical Industry and Waste
Beyond air pollution, it is no secret that the medical industry uses a high volume of single-use plastics. In order to ensure that equipment is sterile and there is no patient-to-patient contamination, many pieces of medical equipment are unwrapped for each patient and then disposed of afterwards. In addition to this, the rise of Coronavirus has led to a dramatic increase in single use protective equipment. This single-use equipment is widely perceived to be safer than re-usable equipment. Single use equipment and gear is also considered to be less costly to the hospital. But is this true? Neurosurgeons at one Canadian hospital cut their use of disposables by 30%. This 30% decrease actually saved their hospital $570,000 in purchasing costs. The price to continually replace devices and equipment is incredibly high, and the risk of contamination from properly sterilized reusable equipment is very similar to single-use materials. There are also small changes that can be made by hospitals to reduce waste. For example, nurses at London's Great Ormond Street hospital saw that healthcare staff were opting to put on disposable gloves rather than wash their hands. When they addressed this issue within their hospital, the use of single-use gloves was greatly reduced and the hospital was able to cut 21 tons of plastic waste. It is also important for medical practitioners to be aware of how to recycle within their hospital and which devices are recyclable. There is a widespread lack of knowledge in the medical industry about how to properly recycle single-use plastics. By setting up a convenient and efficient system for recycling these plastics, hospitals across the US could reduce their medical waste by 20% or more.
Where to from here?
Whether it's advocating for more sustainable healthcare infrastructure or reminding practitioners on your floor that washing hands is just as effective as single-use gloves, there are many ways we can work towards reducing the healthcare industry's environmental footprint. As Earth Day approaches, it is important for all of us to take a look at our own habits and find small ways we can work together towards a greener tomorrow. Every baby step forward is one step closer to reaching our goal.
References:
https://news.yale.edu/2019/08/02/healthcare-industry-major-source-harmful-emissions
https://www.bbc.com/future/article/20200813-the-hidden-harm-of-medical-plastic-waste-and-pollution