Best Lunch Boxes for Nurses
While this may seem like an odd (and possibly unnecessary) topic to non-nurses, nurses know just how vital this can be. Long shifts, irregular breaks, and small spaces to eat can make having the right lunch box the difference between your only downtime being filled with a smooth 10 minutes of eating that sandwich and apple you've been looking forward to all shift and awkwardly trying to balance four containers on your lap while feeling rushed and uncomfortable. But never fear! We have compiled our tried and true favorites to make those moments of rest and reprieve be just that. We want you to look forward to opening up that magical lunchbox and finding your food kept at the perfect temperature, neatly presented in front of you. Here are our top four picks:
SRISE Lunch Bag Insulated Lunch Box
This lunch box is an Amazon favorite. It has a sturdy handle, waterproof fabric, a professional design, and a leakproof lining inside. Spilled something on the outside? No worries. Spill something on the inside? We got it. This bag is made to stand the test of time, and on top of that, it is roomie inside without looking too large on the outside. It is perfect for long shifts when you might need a few different snacks or small meals throughout the shift to keep you going. But don't just listen to us, check out the words of one excited buyer:
"This is my favorite lunch bag, and I've had several over the years! It's good and roomy without feeling like a giant lunchbox, and it's very professional looking, so I don't feel weird bringing it into the office with me every day.
I fit the following: 4 packs of oatmeal, napkins, a travel fork and spoon – and that's just in the front pocket. For my daily lunch and snacks I fit: an ice pack, a sandwich, hummus container, baby carrots, grape tomatoes, a piece of fruit, string cheese, and a snack bag of pretzels or popcorn – AND THERE IS STILL ROOM if I wanted to add a yogurt or second piece of fruit."
MINCOCO Bento Lunch Box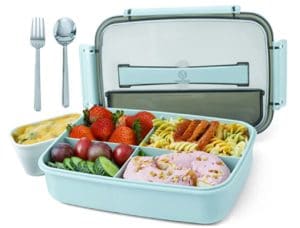 This lunch box is perfect for those of us who are perpetual lap-eaters at work. The phrase "lunch break" is often very misleading in the nursing world, as the so-called "lunch break" can often consist of finding a chair or empty space for a few minutes before getting back to your patient or task on hand. There's nothing more frustrating than spending the majority of your free minutes just trying to organize your lunch items and find your utensils, then being left with no time to actually eat it. When it comes to this lunch box, everything is perfectly organized for you and all you have to do is take it out, put it on your lap or table, and enjoy the delicious treats. It has a sleek design and includes a four-compartment container, utensil compartment, and leak-proof lid with a handle to carry it. It can easily be fit in a purse, backpack, or other lunch container and won't take up too much space if you're lucky enough the have a fridge handy. The set also comes with a small bowl and lid, so soup-lovers may be extra drawn to this option. And BONUS – this set is dishwasher and microwave safe, so you can enjoy warm food without the hassle of transferring everything around to bowls and plates. In the words of a buyer:
"This lunchbox does an amazing job. It keeps my food warm for hours the box is completely leakproof and can bounce around in my lunchbox without spilling out. The case is insulated so it will keep everything warm or cold. The quality is great and I am happy that I bought this."
Lunch box For Men: Insulated cooler Lunch bag w/ 3 compartments
Despite what the name says, this lunchbox is a great option for both male and female options. The lunchbox comes with a padded shoulder strap, looks sleek, and includes three meal prep containers and two icepacks. The design is made to fit the three meal prep containers snugly so they are not bouncing around and jumbling up your food. There is also an insulated side pocket for drinks and plenty of small mesh pockets to keep necessities such as napkins, utensils, or quick eats such as granola bars. One happy reviewer said:
"This lunchbox is amazing. Lots of spacious compartments, comes with 3 containers, and 2 ice packs. I packed my lunch at 8 this morning and its now 3:20 PM and my food and beverages are still as cold as they were when I pulled them out of the fridge this morning. I bought the green one but it's more of an aqua color which im not complaining I love the color. Although the title says for men I am a woman and I heavily recommend it for both."
Gloppie Leakproof Lunch Tote for Women
This one goes out to all of my stylish nurses. This tote bag is waterproof with a leak-proof insulated lining inside, and there are lots of fun designs to choose from. The bag is spacious and can double for a variety of functions. It's great for lunches at the office, but can also double as a stylish beach or picnic bag on your off-days and can carry food (or cocktails..) for the whole crew. One reviewer said..
"I needed a bigger lunch bag for drinks, and this was exactly what I needed. It large enough for 2 hard ice packs that lay across the bottom, 2 soda cans, 2 16 oz. bottles of water, and my lunch (sandwich, string cheese, the necessary chocolate!, and/or a small container of salad. I could even add a other drink if I wanted to. It keeps everything cold all day, it's easy to clean, and I haven't had a leak yet. I've been using it for a couple months, and I highly recommend it!! (It DOES resemble more of a purse so some guys might want something different)."