Top 10 Gadgets for Nurses
Smartphones. Smart TVs. Now smart homes. It seems like everything these days is getting smarter. Or at least coming in a fancy, high-tech, more upscale version. 
This is why we have put together this list of the top ten gadgets for nurses, nursing students, and those just hanging around nurses or doing nurse things. These gadgets were designed with the nurse-life in mind; to help us work smarter, not harder. 
Here are the top ten nursing gadgets.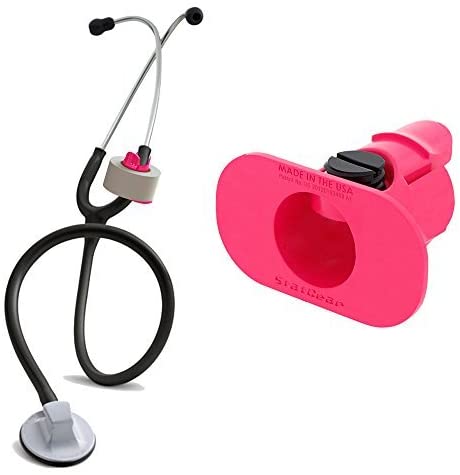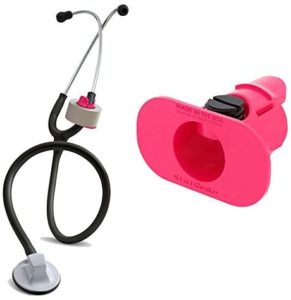 Photo credit: StatGear S3 Hot Pink Stethoscope Tape Holder by Amazon
Nurses, Paramedics, and EMTs will appreciate this invention/accessory. Sure, you could just hang the roll of tape from the ear tubes, but then it slides around all willy nilly and gets linty. The StatGear stethoscope tape holder is designed to keep the tape in one place for easy dispensing, splinting, bandaging, securing, and whatever else you need tape handy for. This item comes in a ton of colors, so you can match your holder to your scrubs, shoes, or stethoscope. StatGear was started in 2011 by an NYC Paramedic to design innovative survival and rescue products.

Photo credit: Custom-built Erasable Silicone Note Wristband by Beaustar
Writing vitals on your hand is so passé. Now you can order an erasable silicone watch wristband on the internet. Check out these cute bands for jotting down notes, times, all those things you don't want to forget. Then wipe your slate clean with an alcohol pad when the shift is over.
If you wear a smartwatch and there's little wrist real estate available for another watch band, try this Silicone Memo Waterproof Wrist Band instead. These bands would also make the perfect gift for a nurse or student. Write a thank-you note, a quote, or a wish on the band for a one-of-a-kind, memorable present.

Photo credit: Badge Reel Accessories by ReelBricks
This gadget is an "oldie-but-goodie." It is a must-have item for every nurse. Out of 1000 reviews, this one is still a five-star item! Fully customizable, badge reels can hold mini scissors, highlighters, even tiny dry erase markers *swoon.* Don't worry about losing your pen again. Keep it close to your heart. Definitely, a gadget that every nurse needs. 

Photo credit: Pro Compression Socks Marathon Black on Black
According to an article about compression socks from the Cleveland Clinic, compression socks could potentially improve performance. Ready to run to the bedside faster? Stand in the OR longer? Jump up for the call bell higher? Then try out compression socks.
These graduated medical grade copper compression socks are on the gadgets list because, unlike normal compression socks for circulation, these are made with 5% copper fiber. And copper conducts electricity, essentially pulling neurologic pain impulses away from the tissue. Or so they claim. Whether or not they work, they are very highly rated.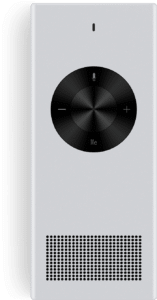 Photo credit: Enence Instant Translator by Muama Enance
Sure we all have Google Translate on our phones, and we have a "language line" and interpreters, but this gadget is really cool. This palm-sized device lets you communicate in over 40 languages with the click of a button. No more fumbling around trying to communicate when it counts. This translation intercom device allows real two-way communication in real-time. This gadget is sure to help nurses on the job. Watch the video here.

Photo credit: Koala Qlip by Prestige Medical
Where are my 80's kids at? Remember the clip-on koalas? I digress. This 2020's Koala Qlip is not as cute, but it is nice for nurses who want their stethoscope with them but know the correct way to handle their stethoscopes. The stethoscope should not rub against the back of the neck because the oils can cause the tubing to harden.
Furthermore, the weight on the neck can cause neck strain, tension headaches, and migraines. The Koala Qlip fixes all that with their lightweight, heavy-duty gadget. It also fits most models and attaches to any garment. 

Photo credit: ThinkLabs One Digital Stethoscope by RehabMart
Nurses have been using stethoscopes for over 200 years. And the design has not changed much.
According to the National Institutes of Health (NIH), one problem with the acoustic stethoscope is the sound quality. That is why an electronic engineer became obsessed with making a smarter device. Enter the digital stethoscope.
The hollow tubing is eliminated in favor of lightweight electrical wires. High-quality headphones allow the sound amplified over 100 times to be adjusted. And the digital stethoscope can send sounds to tablets, laptops, or mobile devices. Techie nurses swoon. 
The steering wheel desk is the perfect gadget for nurses who work outside of facilities. Yes, for some, the lunchroom is their car. And their desk is their lap. It was their lap until they got this top nursing gadget. The steering wheel desk comes with a pen slot, cup holder, and ergonomic design for comfortable use. It's as if this invention was made for Home healthcare and Hospice nurses. 

Photo credit: Yixoo Vein Finder by Amazon
Visualizing the vein can get tricky sometimes. Nurses who want all the things to supercharge their nursing powers need this next gadget. A vein finder uses near-infrared (NIR) imaging to detect veins under the skin. Simply have your patient hold the small device with their fist, watch their hand light up, and veins pop out!
The technology is proven, and some settings use large, expensive machines to make venipuncture procedures more efficient and more comfortable for the patient. Pediatric sizes are available too. Carry it in your pocket. It is small enough to be used on infants and tiny enough to fit in an incubator. At around $100, it could be an excellent investment. 
If you've ever sliced a finger on an ampule, you will love this next gadget. The small, sleek plastic device fits over the ampule, allowing you to snap the top off. Reduce injury and cross-contamination on the job. Sure, you could just use a syringe barrel or a cloth to protect your fingers, but that is what gadgets are for, right!? The Ingenious devices are designed to make tasks easier.
Or are those gizmos? Maybe these were the top ten nursing gizmos. 
If you enjoyed this article, be sure to follow us on social media and like or subscribe!