Ready to Make the Transition from RN to NP? Here's How!
Many nurses are now choosing to go higher than the bedside for many reasons; maybe it's financially driven, or they have a desire to learn more. 
Whatever the case, if you are one of those nurses ready to go from bedside to nurse practitioner, here's how!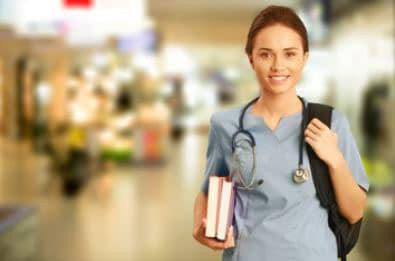 But first, what is a nurse practitioner and what do they do? 
A nurse practitioner is a registered nurse who has a master's or doctoral level degree and is licensed to practice with greater autonomy. They get to care for patients, create care plans and do minor procedures, usually under a doctor's supervision, though that depends on the state. 
So what do I need to do to become a nurse practitioner? 
First:
If you do not have a Bachelor's in Nursing, this is where you'll want to start. There are many RN-BSN programs out there and a lot of them are even predominately online!
Next: 
Once you have your BSN, the next step would be to go get a Master's in Nursing. Masters programs have many different specialties and include different things depending on the program. You will want to make sure you are eligible to sit for the exams you need depending on the specialty. 
Finally: 
Though many specialties will allow you to get licensed without a doctoral degree, if you want to effectively add to your resume, increase your chances of getting hired, or just wanted to know more, then after getting your Master's degree you could opt to go for a doctorate. 
Now, let's go over the different specialties so you can keep them in mind as you search for and apply to programs. 
Different Kinds of Nurse Practitioners:
Certified Registered Nurse Anesthetist (CRNA)

Certified Nurse Midwife

Family and Geriatric Nurse Practitioner

Acute Care Nurse Practitioner

Psychiatric Nurse Practitioner 
Are There Any Alternative Ways to Become A Nurse Practitioner? 
Good news! Yes, there are some programs that allow you to skip some of the steps. 
For instance, if you already have a BSN, there are bridge programs that include all the education you need all the way up to becoming a licensed nurse practitioner. 
There are actually bridge programs from at least four different starting points: ASN, BSN, a non-nursing MSN, and even from a non-nursing Bachelor's or Master's degree. 
What Are The Program Requirements? 
Of course each program will be different, but some of the generalized requirements include: 
A minimum GPA 

An active registered nurse license 

Some clinical experience

Letters of Recommendation

Application and fees
So After I Do All This, How Much Will I Make? 
Great question! You want to make sure all your hard work pays off, of course! Well, the average nurse practitioner makes just over $115,000 and the field is expected to grow more than 30%. 
However, as you might expect, pay will greatly depend on specialty, location, experience, and position. 
Are you looking to transition to NP or already on that path? Tell us your experience in the comments below or join the conversation on Facebook!