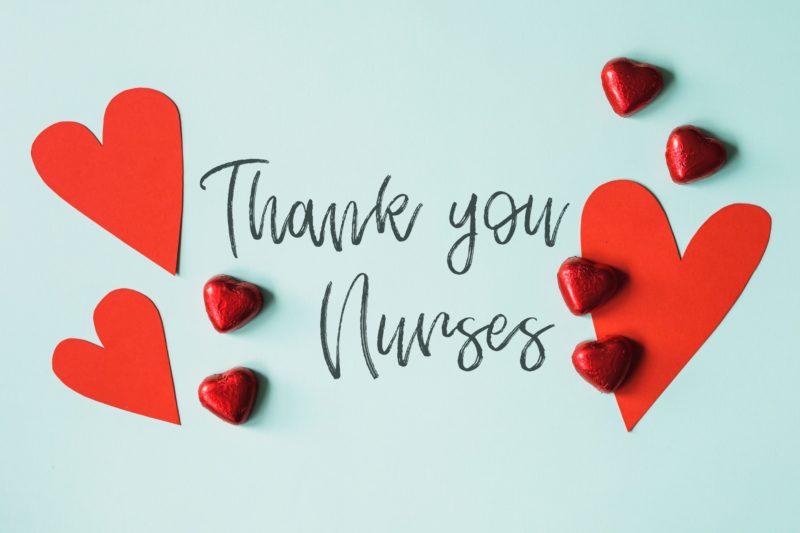 "Gratitude is a vaccine, an antitoxin, and an antiseptic." – John Henry Jowett
This powerful quote from a nineteenth-century preacher says a lot to us today. Is gratitude really as powerful as a vaccine? And if so, how can nurses cultivate gratitude in our practices and lives?
Gratitude's Presence in Nursing
Gratitude is a state of being thankful. And in a bigger sense, it means seeing that there is goodness to appreciate. We can enjoy the good in a person, a situation, or someone's actions.
Nurses play a unique role in people's lives by caring for and nurturing them through difficult times when health is compromised. Because nurses work so closely with patients and families, they likely receive expressions of gratitude for their work. Nurses themselves might express gratitude through simple thank you's or heartfelt, encouraging words. Nurses may be thankful for:
A nurse aide who works hard to assist nursing staff
The doctor who goes above and beyond to treat a patient
The housekeeping worker that often goes unappreciated
Gratitude motivates us to see the good that others have given us and respond in kind. Moreover, thankfulness can lead nurses to feel more connected and inspired. Amidst the pandemic-era burnout that many healthcare providers face, we could all use a bit of gratitude. Here are a few more reasons why gratitude is so important for nurses.
Gratitude's Importance in Nursing
Over the past few decades, researchers and psychologists have been interested in the effects of gratitude. They have proven that feelings and acts of thankfulness can lead to many health benefits. Grateful healthcare workers can see physical, mental, and social benefits. Here is what the science shows.
Effects of Gratitude on Nurses' Physical Wellbeing
Gratitude is an effective tool that nurses can use to boost physical health. Research has shown that individuals who regularly receive and express gratitude have:
Stronger immune systems
Decreased aches and pains
Lower blood pressure
Decreased risk of heart attach
Better sleep
One study found that gratitude is a predictor of sleep quality and duration. Grateful subjects also demonstrated decreased daytime dysfunction. Gratitude can be helpful for night shift nurses with difficult sleep schedules.
Interestingly, gratitude may also help with disease management. Researchers conducted a study among heart failure patients and found that gratitude journaling improved their prognosis. Gratitude is a tool that nurses can benefit from and share with their patients and families. It is a free and easy way to see major health benefits.
Effects of Gratitude on Nurses' Mental Wellbeing
Gratitude can lead to wonderful mental health benefits for nurses, such as:
Improved mood
Higher self-esteem and a more outgoing personality
Greater self-satisfaction
More positive emotions such as joy, happiness, and optimism
Improved mental acuity and alertness
Greater resilience to stress
Another study found that gratitude uniquely predicts satisfaction with life. Recognizing what you have to be grateful for and responding with expressions of gratitude can change your mindset for the better.
Effects of Gratitude on Nurses' Social Wellbeing
Along with physical and mental benefits, gratitude also leads to positive relationships. Individuals who feel and express gratitude are:
More forgiving
Less lonely and isolated
More generous, helpful, and compassionate
More supportive of others, and have greater support
On the job, workers with more gratitude show better resilience. They also use fewer sick days, express greater job satisfaction, and demonstrate better stress management. Gratitude is one way to combat a hostile workplace culture and encourage teamwork.
Gratitude can have positive effects on patient care. An article in the journal Pediatrics found in 2019 that expressions of gratitude greatly enhanced medical team performance. In other words, patient-expressed gratitude can lead to better care and improved outcomes.
How To Practice Gratitude
So with all of these social, mental, and physical benefits available to us, the ultimate question is, how do we practice gratitude? And specifically for nurses and other healthcare providers, how do we grow gratitude in the workplace? Here are some practical tips for practicing gratitude that you can start today.
Gratitude in the Workplace
The Greater Good Science Center (GGSC) at the University of California Berkeley studies the science of wellbeing and teaches skills that foster a thriving, resilient, and compassionate society. As a result of their work, the Gratitude for Nurses toolkit is free to the public. It includes a presentation for the workplace that presents the research and provides exercises that healthcare organizations can use to create a culture of gratitude.
GGSC also developed Thanx4.org, an online, sharable gratitude journal that helps you say "thanks" for the good people and things in your life. Users can journal individually or as a group. Nurses can encourage their workplace to take a 10- or 21-day Gratitude Challenge.
Wambi.org is another resource for the workplace that offers tools for practicing gratitude. The site offers a free downloadable workbook and downloadable Zoom backgrounds that bring joy.
Present Moment Awareness
Present moment awareness, also known as meditation, is practiced in different ways. One of the easiest ways to start is through a guided meditation that will help focus your thoughts. Nurses can find a variety of Gratitude guided meditations online through a quick online search. Here is a link to one example available on Mindful.org.
A Few More Gratitude Practices for Nurses
Besides guided meditation, gratitude journaling, and workplace exercises, here are a few more psychological strategies to enhance feelings of gratitude.
Think about someone for whom you are grateful
Write or send a note to someone for whom you are grateful
Count your blessings, write down three things you are grateful for each day
Practice saying "Thank You" in meaningful ways
If religious, say prayers about your gratitude
These simple but powerful ways of making gratitude part of your day can have profound effects.
In Summary
Now you know how to cultivate gratitude in nursing practice and life. It seems as though even in the 18th century, Jowett was onto something. Gratitude may be just the thing nurses, and healthcare providers need in this pandemic era. Given the social, mental, and physical effects, don't wait to give thanks. Let us know what you are grateful for today!