We hear you, it might seem like too much work to break out the rollers or the blow dryer for work.  Who does their hair for healthcare these days anyway?  Sometimes a cute little style is all it takes to change your outlook.  It can't hurt right?!?
These are all easier for day two or three hair, which is perfect because no one wants to build in shower time that early in the morning (or night, hello night shifters).  We've separated them by length.  Enjoy.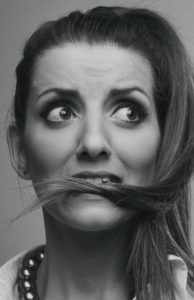 Long and glorious locks
Try a reverse braided bun.  Flip your hair over and french braid your hair starting at the nape of your neck (which is the top while your head is upside down).  You will get to the crown of your head and then make a ponytail.  Turn that pony into a quick messy bun and you have elevated your style.
If your braiding game isn't exactly strong, check out this tutorial for a non-braid messy up-do that looks effortlessly great and will likely last all shift.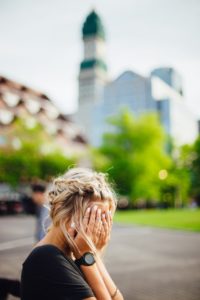 Medium hair
A classic low bun with a twist is a great way to make something simple look fantastic.  Just twist each side of your hair and connect the whole thing with a ponytail.  Make some space right above the rubber band and flip the entire ponytail through the hole.  You can either leave the resulting low pony as it is or if you don't like the hair on the back of your neck, loop the rest through the twist to create a low bun.  Beautiful either way.
Another great option is a side braid with a ponytail.  Use a large portion of your hair starting at where a deep side part would be to create a braid.  This style works with whatever braid you want, fishtail, french, or just a regular one.  Once you reach the back of your head, put the rest of your hair in a ponytail for a cute, but a super-easy way to update your style.  Once you get really good at this one, start to experiment with different types of braids, the length of the braid, or using both sides.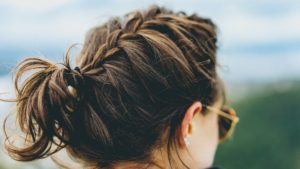 Short Hair
A simple side braid secured with a clip can keep your hair out of your face, even if you don't have enough hair to put it up.  Do a one-sided French braid by only grabbing extra hair at the front of your face.  Start at your natural side part and bring the braid to just above your ear.  You can clip it, or pin it, however, your hair works best.
Short hair doesn't mean you can't have the best of both braids and updos.  Try a pull-through braid to keep it simple and avoid the need for hair down to your shoulders.  Make a small pony at your crown (which is honestly cute by itself), pull the next section back to make a second ponytail,  pull the second one up and over so the other ponytail can separate around it.  Don't worry, there is a video in the link.  You'll continue that until there isn't any hair left and you are the envy of all the short hair girls on the floor.
And if you really just aren't having it today, have no fear.  The surgical cap has made a fashionable resurgence since COVID started.  This list has the rundown on all things scrub cap so you can look great while you hide that hair.  Functional even when you aren't having a bad hair day, life-saving for those *ahem* late mornings.