California Nurses Demand Justice This Juneteenth
Eric Garner. Tamir Rice. Breonna Taylor. Freddie Gray. Philando Castile. George Floyd.
The list goes on and on. We see their names splashed across news headlines. Pictures of the latest victims are projected through our living room TV's in what seems an endless cycle. Our hearts are collectively broken, and our country is united in anger and determination to stop the undue violence being inflicted on our beloved black community.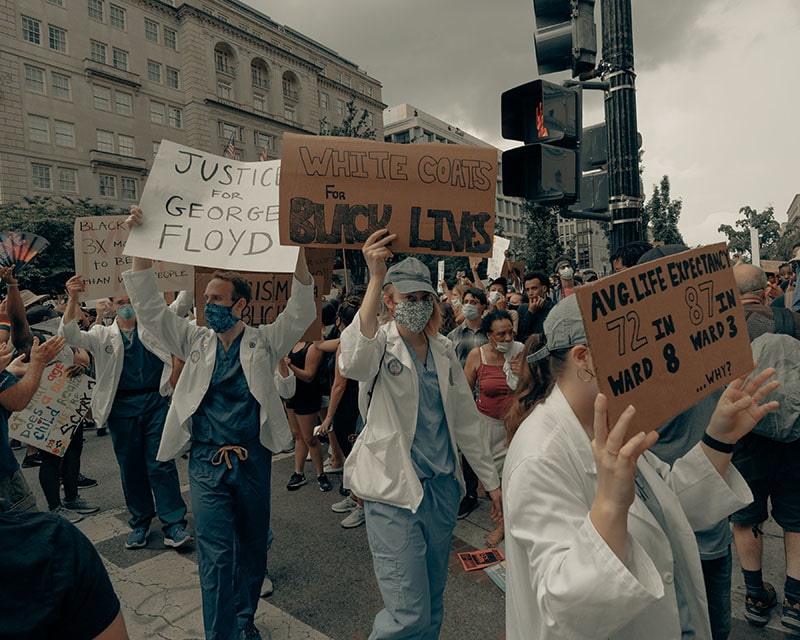 Juneteenth marks the date in history that black slaves in Texas were informed of their freedom following the Civil War ending two months prior and the issuance of the Emancipation Proclamation two and a half years earlier. Since then, Juneteenth has been recognized and celebrated throughout the U.S., and is a state holiday in Texas and 45 other states.
To honor Juneteenth and contribute to recent efforts to fight for justice and equality, some nurses in California's Kaiser health system have coordinated actions with Black Lives Matter to call for an end to police brutality and demand accountability.
Bonnie Castillo, executive director of National Nurses United,
says of the coordinated actions
, "We stand with the movement for Black Lives Matter in the struggle for racial justice. Police brutality in black communities must cease immediately. Nurses are committed to challenging the systemic racism that is endemic in our country."
One of the organizers of today's actions and an RN with Kaiser in Oakland, California, Jewell Jordan, told National Nurses United, "Being an African American, it's important for me to speak out. How can you not speak out especially with what's going on? It's past time for others to speak out about racism. We have lots of work to do, but nurses are a strong group of people and we have a chance to participate in really changing some things."
If you're interested in attending the Black Lives Matter Juneteenth actions coordinated with Kaiser today, the schedule and addresses are as follows:
Address: 4867 Sunset Blvd., Los Angeles, CA 90027
Address:
3600 Broadway, Oakland, CA 94611
Address: Intersection of Rocky Ridge and Douglas Blvd. in Roseville, CA
Address: 2425 Geary Boulevard, San Francisco, CA 94115
Address: 700 Lawrence Expressway, Santa Clara, CA 95051